China pun sekarang bisa mempermainkan Harga Minyak Dunia, Kapan Indonesia??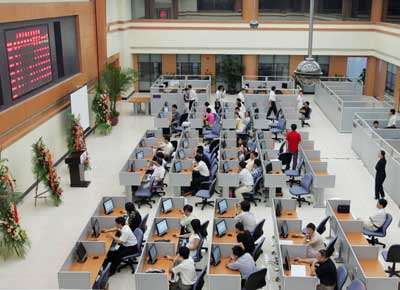 SHANGHAI -- Shanghai Petroleum Exchange, China's first bourse for the spot transaction of oil products, formally opened on Friday.
The exchange, located in the Pudong New District, began trading in gasoline and will trade bitumen, methanol and glycol in the near future, said the bourse's general manager Chen Zhenping.
Chen said the exchange will launch trading in other petroleum and chemical products in the future including crude and refined oil and liquefied gas.

Chen said his organization will adopt international oil trading practices and state-of-the-art transaction technologies to offer intermediary services on an efficient and low-cost trading platform.

The exchange has reached deals with 65 traders, at least 10 warehouses and two banks.
With a registered capital of 105 million yuan (13 million US dollars), the exchange is a joint venture between Shanghai Jiulian Group and four domestic petroleum and chemical giants including PetroChina and Sinopec.

The opening ceremony for the exchange was held on Friday morning at Shanghai International Convention Center on the bank of Huangpu River to mark the exchange's formal inauguration.

Ministry of Commerce said in a congratulatory letter the inauguration of the exchange is an important move to strengthen China's petroleum market.

It would also help sharpen the competitive edge of Chinese petroleum and chemical companies and increase Shanghai's supply of crude oil, said Shanghai's vice mayor Zhou Yupeng.

China's petroleum market is expected to see consumption of crude and refined oil accelerate this year, said Gong Jinshuang, senior engineer with the research institute of China National Petroleum Corporation, the country's largest oil producer.

Total net imports and output of crude oil in the first half of this year were 161.99 million tons, up 8.2 percent over the first half of last year and that of refined oil products was 96.85 million tons, up 19.2 percent, said Gong.

China's crude oil output totaled 91.66 million tons in the first six months, a 2.1-percent rise on the first half of last year, according to China Petroleum and Chemical Industry Association.

In the first half of the year, the country produced 84.82 million tons of refined oil products, up 5.6 percent.

The General Administration of Customs said net imports of crude oil were up 17.6 percent to 70.33 million tons from January to June, and that of refined oil products jumped 48.3 percent to 12.03 million tons.